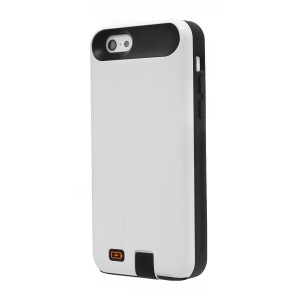 I have reported on Ontrion's LifeCHARGE products before, but I believe that this is the first time that I have covered anything the company has made for the iPhone 5C. Clearly, the LifeCHARGE ZEAL isn't anything that I haven't seen before, but it is always needed.
The ZEAL is one of those batteries that doubles as a case, or a case that doubles as a battery. I guess it all depends on what you need at the time, but most would prefer the battery over protection. The good part is that you can charge the iPhone 5C and the battery case at the same time. Sometimes you don't get that in a product like this.
The case has a cable built-in which allows you to plug it in to the Lightning connector when you need some extra juice. It has a 2000mAh lithium polymer battery that will give you 8 hours of added talk time, Internet, and/or video. If you just want to just listen to tunes, the ZEAL can give 35 hours of that time.
If you are interested in this, head to the LifeCHARGE site and pay about $69.99 for it.