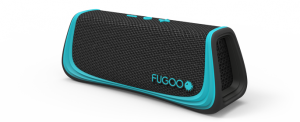 I've been fortunate enough to review another Bluetooth speaker, this time, it is the Fugoo Sport. I would definitely say that it is the speaker for the summer.
For example, if you want to plop this speaker in the sand and listen to your tunes on the beach, the Fugoo Sport is the Speaker of choice. It is also designed to stand up to snow, dirt, and a little water as well. How can it do that? Well, the speaker is built with a waterproof super-durable cltoh, bonded to a fiber-reinforced resin shell, and then wrapped in a resilient rubber trim.
So, how's the sound? I would have to say…quite awesome. This is because it gives sound in 360 degrees thanks to two 28mm neodymium tweeters, two 39mm neodymium aluminum domed mid/woofers, and two 43mm x 54mm passive radiators.
The Fugoo Sport is made for life on the go, and it is has a lot of accessories that are sold separately like a remote control, strap mount, multi mount, and a bike mount. I'm not certain how much the accessories cost, but you can purchase the Fugoo Sport for a price of $199.99.