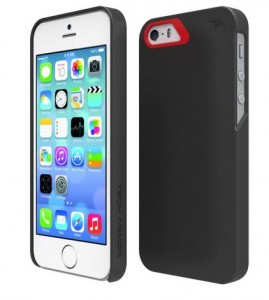 Every since the iPhone 4 had that defect that required a case to get it to work right, the iPhone case business has been thriving. Of course, most iPhone cases look just the same, but the Tech Armor has one unique feature: it is the thinnest.
At least, this is what the company says. I have no idea how true that is, but I had a chance to try it out for myself, and it certainly feels true. In fact, it feels like there is very little on the iPhone 5 itself.
It is a polycarbonate material, which means it can take a punch. I have no idea how much it can take, because I didn't want to go to extremes and break it. I don't exactly have a machine that can test an iPhone case and tell me how much it can take. The important thing is that it can prevent the usual bumps and scratches in life.
You should be able to purchase the Tech Armor iPhone 5 case for only $14.95 in a variety of colors from the Tech Armor site.