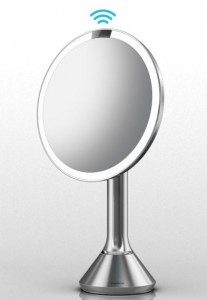 Now that I wrote about the Rechargeable Sensor Pump yesterday, I figure that I can cover another home accessory from Simplehuman, the Sensor Mirror.
The Sensor Mirror is made of stainless steel, and it feels at home in any type of room. In front of the mirror is a sensor that will turn the ring of light on if you step in front of it, and yet somehow knows when to shut off.
Now here's the thing: you may not like what you see. You see, the mirror magnifies at about 5x, so it is an amazing close-up. The light is also good for simulating natural sunlight, and it shows just about every pore (whether you like it or not). For those who do make-up (which is not me) this is the mirror for it.
Like the Rechargeable Sensor Pump, the Sensor Mirror is USB chargeable. You might have to take it to a USB port for charging every once in a while, but it is a pretty good product on many levels.
You can purchase the Simplehuman Sensor Mirror on the Simplehuman site for about $200.00. This concludes our Simplehuman series, but I really want to review more from this company, honestly.