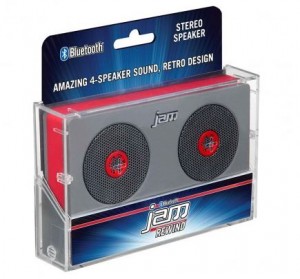 Normally, I don't show the packaging for the products that I review, but I couldn't resist this one. I realize that I am a day late for Throwback Thursday, but this packaging for this Jam Rewind Wireless Pocket Speaker looks just like an old-school cassette.
Yes, we have come a long way since cassette tape was the way to listen to our tunes. That sound was, in comparison, pretty poor. The Rewind has a four-speaker system with two active and two passive speakers, and it is Bluetooth compatible and quite pocket-sized.
I got a chance to try it out for myself, and it has some very good sound. Other features include voice prompts, speakerphone compatibility, and it has a battery good enough for eight hours. You should be able to purchase it for about $99.99 on the Jam Audio site.