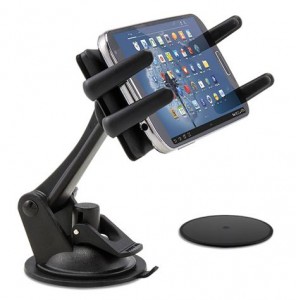 I think it has been a while since I reviewed some Arkon some products, and they make a lot of mounts and accessories for smartphones and tablets. You know, for when you need to put your smartphone or tablet in your car. Today I am going to look at four of them.
Let's start with the SM679, the Slim-Grip Ultra Sticky Suction Windshield or Dashboard Car Mount. I've reviewed a similar device a while ago with the Panavise PortaGrip with 811 Suction Cup Mount, and I actually could use that model as a holder for my camera.
The SM679 is designed to be in the car, and it has a suction mount good for a window or a disc that you can bond to your dashboard on anywhere else. It has these weird legs on it that hold the smartphone in, provided it is up to 6.75 inches tall. If you want it, feel free to head over to the Arkon site and lay down $19.95 for it.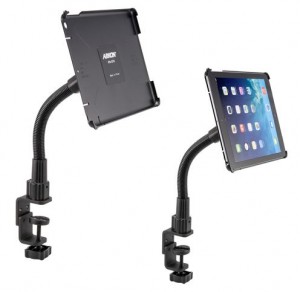 The next product is the IPA08612, the 12-inch Heavy-Duty C-Clamp Mount for the iPad Air. Unlike the SM679, this is made directly for the Apple iPad Air, just 9.4 inches high and 6.6 inches wide.
Unlike the SM679, this has a C-Clamp mount which is good for tables and pretty much anything that can open to 1.75 inch. Yeah, this is a C-Clamp mount, so you know that you will be able to view the Apple tablet from wherever you want to see it.
There is also a 12-inch gooseneck so you can bend the tablet to view at any angle, as well as swivel ball adapter with 360-degree rotation. You can get it on the Arkon site for about $34.95.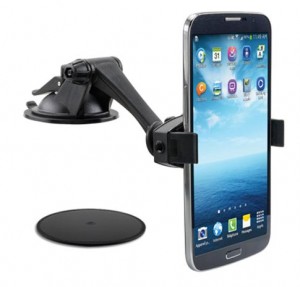 As for the next product, the MG279 or Mobile Grip 2 Deluxe Mini Windshield Sticky Suction Mount. It is very similar to the SM679, but it is designed for smartphones up to 3.6 inches wide.
It has the suction cup with the disc with adhesive. Unlike the SM679, it has a 360 degree rotation, and you can put your smartphone in it with a special clamp. Yeah, it is primarily made for the automobile, and it looks like it can be used as a holder for the camera.
If you want to get in on this, head over to the Arkon site and pay $19.95 for it.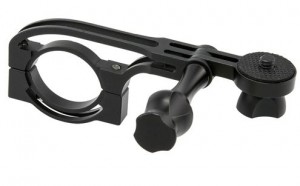 I might as well end on the GPCMPMC Aluminum Motorcycle Handlebar Mount. It is made for 1/4″-20, but let's face it, it is made for the GoPro camera, like many products.
The ring that you see is made for handlebars 25-35 mm in diameter. You can screw the camera on, and take some videos with the "extreme" cameras that I have been seeing like…everywhere.
You should be able to get this on the Arkon site for about $34.95. And this concludes the very, very lengthy Arkon review. If you want to put a tl;dr on this, I understand.