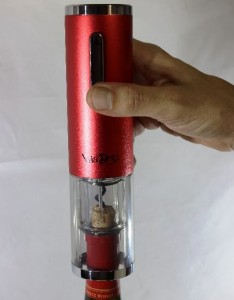 It looks like we are in another Part 2, which means that I am reviewing more than one type of product that has been sent to me. In this case, it is the Concord Keystone owned company VidaDoo, and these two products I am reviewing today are wine-related.
I'll start with the Rechargeable Electric Wine Opener. This is essentially a wine opener that is electric to bore itself into the cork, and there is a light so you can see what you are doing. From here, you can then pop out the cork easily, and there is some kind of gripper thing so you can just run the corkscrew backwards to get the cork out of the big drillbit. By the way, this thing has a different color of light for indicating which direction it is turning.
The Rechargeable Electric Wine Opener requires to be plugged into the wall in order to charge, and it is good for 40 wine bottles. The charging time is about 12 hours, so I suppose that you could keep it near your wine cellar when you need it.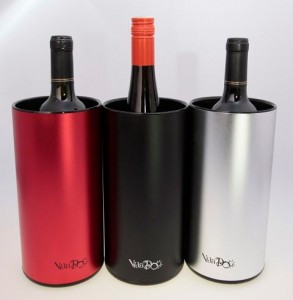 The next product that I will review is the Tabletop Chiller, and there isn't much mechanical stuff on this. Instead, it is a blue gel pack that you can use to chill your bottle.
All you need to do is put the gel pack into the freezer for about 4 hours. Then you can put your wine in to cool your wine from: "59°F to 55°F in within 15 minutes, 77°F to 66°F within 11 minutes".
If you want to get either of these products for your wine habit, you can head to the VidaDoo site and lay down $37.95 for the Rechargeable Electric Wine Opener and the same price for the Tabletop Chiller.