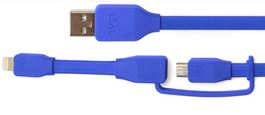 I've reviewed several TYLT products in the past, and I will say that they do make some high quality accessories. I don't think I want to even put a link here from TYLT, so just enter "TYLT" in the Search Engine and read past reviews. That being said, there isn't much that I can say about the TYLT SYNCABLE DUO other than it is a USB charging cable for devices with Lightning or micro-USB ports.
I have to admit, many consumers have both an Android and iOS device, and these smartphones/tablets have two different types of charging ports. You might as well have a cord that has plug-ins for both. As you can see in the image, there is a small "tacked-on" cord that can just change the micro-USB into Lightning quickly.
Like most TYLT products, the cord is tangle-free. It is available in many colors like green, red, blue, and black. It is also available in many lengths, like one foot ($24.99), two feet ($26.99), and one meter ($29.99) options. Check it out on the official TYLT site.