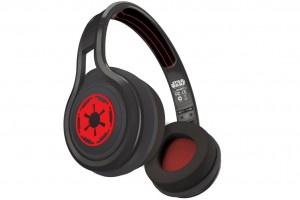 Okay, this is one of the times in reviewing a product where the headline really kind of says it all. I have stated many times that reviewing headphones is difficult because how am I going to describe an audio experience in my written medium? Personally, I wanted it because it has Star Wars on it, and Star Wars stuff just sells because it is Star Wars.
All right, so how can I explain how good the sound is? Well, I think it would be better to let the specs speak for themselves. It has the 40mm drivers for one thing, so that is a bonus right there. They also have some quiescent passive noise cancellation (PNC), so that it "seals off the outside world so you can focus on your music". This plus the Oval-Fit leather memory foam cushions really let you be one with your tunes or other audio.
Just to let you know, you can get other designs than the Galactic Empire Logo. You can get them with designs of the Rebel Alliance, Stormtrooper, and Boba Fett. Each of them come with an embossed case, a removable cable with 3-click mic, a soft touch cleaning cloth, a Limited Edition Star Wars poster, and Star Wars stickers. It even has a Certificate of Authenticity.
So if you like Star Wars, then I know that you are going to leap for these Limited Edition headphones. It would appear that they are available for pre-order on the SMS Audio site, and you can get them for $199.95 each.