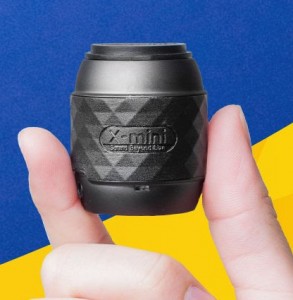 I have reviewed a lot of Bluetooth Speakers, including some from X-mini, like the KAI Capsule Wireless Speaker. The We Thumbsize Bluetooth Speaker might be one of the smallest that I have ever reviewed.
The We Thumbsize Bluetooth Speaker is shaped like a candy barrel, you know, the hard ones that tastes like root beer. It is about 48 grams, which is pretty light and it can be used as a keychain.
So how is the sound? Extremely good. For some reason, there is a rubber cap that, when uncorked, makes the sound really, really loud. You can have this sound for 5 hours, and it takes an hour and a half to charge it.
You should be able to find the X-mini We online, and I would recommend it if you are looking for a Bluetooth speaker. You might find it cheap for $24.99 or $39.99, depending where you look. You can find more info about it here.