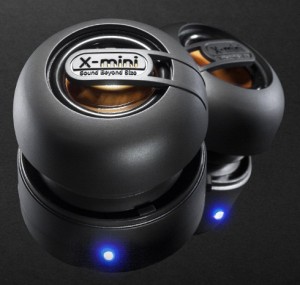 Here's a funny story. X-mini sent me two products to review: the We Thumbsize Bluetooth Speaker and the MAX Capsule speakers. I was out of town for a little while, and I didn't see the latter until later. Needless to say, I am quite glad that I got the chance to try these out.
The MAX do not use Bluetooth, but you can easily plug them into anything with a 3.5mm headphone jack. The MAX Capsule speakers come in a pair, which allows them to be used individually as a mono speaker or paired together for stereo. Best of all, these stereo speakers can lock together magnetically for storage and whatnot.
I have seen a similar speaker design with the X-mini UNO. This speaker has some collapsible base that somehow increases the bass. You can purchase the X-Mini MAX Capsule Speakers for about $49.99 in Gunmetal, Red, Orange, Blue, Green, and Purple. You can find out more information about this product here.