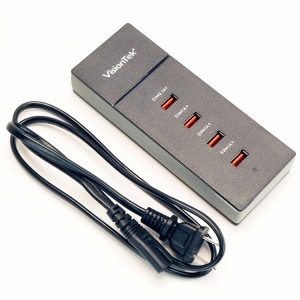 Since practically everything is USB powered these day, the USB hub is practically a household necessity. The company VisionTek High Power USB Four Port Charging Hub is a good example of something that every family needs.
As you might have guessed, it can support a family of four who have smartphones with one USB port each. There are three 1 amp ports for charging smartphones and then a 2.1 amp port for charging iPads and tablets.
I will be honest and say that I have seen products like this before, most recently the HUB IT by Eggtronic. The advantage of this USB Charging Hub is that it comes with the power adapter on the unit itself, and you don't need to connect this Hub to a computer or anything for charging your gadgets. Other chargers are also underpowered, not giving your mobile devices the power they need for a full charge.
You can get this on the VisionTek site for about $19.99.