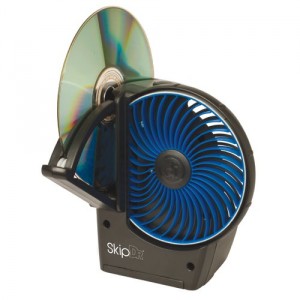 Ah yes, it is time for Digital Innovations, and we'll be reviewing three more of their innovations today. I'll start with the SkipDr, a motorized Disc Repair System that can repair CD, DVD, Xbox, Wii, PS, and PS2 discs. I'll explain what to do if you want to clean a Blu-ray or PS3.
If you have one of these discs that is having trouble playing, or skips or freezes from time to time, the SkipDr is the device for you. The kit comes with this device that looks like a fan and runs on 6 AA batteries (there's also port in back for an AC cord, but it doesn't come with that). What you do is shine the disc with the included spary, put the disc on this thing and allow it to rotate twice. The SkipDr removes a microscopic layer within the "safe buffer zone", which renews the disc.
The FlexWheel is good for 25 discs, and you can repair the same disc multiple times. You should be able to purchase it for about $39.99 on the Digital Innovations site.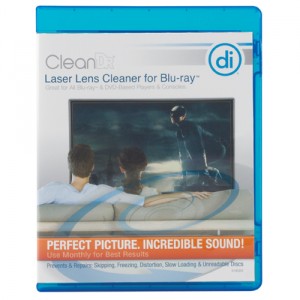 Remember how I said that if you had trouble with the Blu-ray or the PS3? Well, if you want to clean that system, you will need the CleanDr.
The CleanDr will help fix those Blu-ray discs that skip, freeze, load slowly, or simply just don't play. There is a 10-brush Cyclone Clean Process that can remove dust, dirt, and debris, and this is safe for all players, including the newest version of the Xbox.
If you need this, go ahead and check it out for about $19.99 on the Digital Innovations site.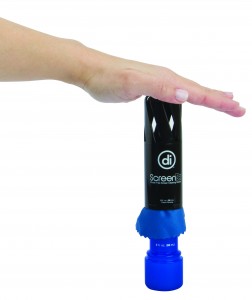 The last item is another cleaner, but it isn't for discs, but it is for screens, like those for phones, tablets, and cameras. The ScreenDr is a Portable Screen Cleaning Kit that is a cloth and a spray that fit in a compact container that you see here.
The ScreenDr is made to remove grease, smudges, fingerprints and other things. Considering that most phones and tablets have just filthy touchscreens, the ScreenDr can be in the house for about $9.99 on the Digital Innovations site.