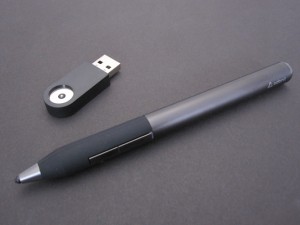 I've been looking forward to reviewing Adonit's latest products, and I finally had a chance to review the Jot Touch with PixelPoint. If you aren't familiar with Adonit, they make some very cool interactive styluses.
The Jot Touch is compatible with Bluetooth 4.0, and it charges with a USB key that can magnetically lock with the end of the pen. After that, you can use the Jot Touch on many applications including Concepts, Illustrator Line, Photoshop Sketch, Procreate, and the Zen Brush. I tried out the Zen Brush, and I really liked how the pen was able to create very good brush strokes like a brush on paper.
In addition to the Jot Touch ability's to draw, there are two shortcut buttons that will do various things depending on what app you are using. However, I think that the biggest selling point of the Jot Touch will be Pixelpoint, the first third-party stylus to be Adobe Creative Cloud connected. This allows the user to access files saved to the Creative Cloud, as well as cutting and pasting between devices.
In short, there is a lot that the Jot Touch can do. If you feel that you want this, then I second that motion. Head on over to the Adonit site here and pay $99.99 for it.