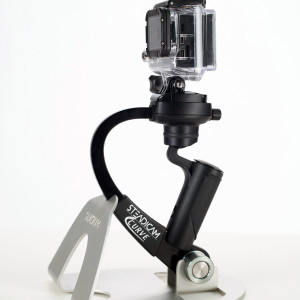 If you have heard of GoPro, then you know that these cameras are synonymous with a lifestyle of snowboarding or BMX biking. I would imagine that unless you like that shaky-cam effect in overdone action movies of today, you are going to want some kind of Steadicam for your GoPro. Enter the Steadicam Curve by Tiffen.
The Steadicam Curve is made for the GoPro HD HERO, HERO 2, HERO 3, and HERO 3+ cameras. Just to let you know, you will need a GoPro LCD BacPac, LCD Touch BacPac, or Curve Weight kit. Once you have it set up with all the proper weights in place, you will discover that you can run with your GoPro, and it will have some smooth action.
This is one of those products that is going to be hard to explain how it works. I felt that the official video would do a better job of explaining it than I, but there is a part that hangs off the curve that you can grab. After that, your GoPro camera will be balanced, and this dangling part can join with the curve should you just want to hold it in spite of the possible shakes.
All in all, the Steadicam Curve is a needed product since we live in a Steadicam age. If you have a GoPro camera like the types I listed above, I would recommend it. You can get it on the Tiffen site here for about $99.95 in Black, Blue, Red, and Silver.