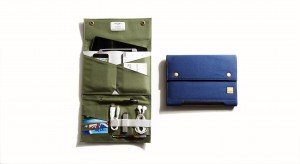 If you aren't familiar with KNOMO, you might want to Bookmark their site right now. KNOMO makes several products, and I got a chance to review their KNOMAD Mini Portable Organiser. I didn't type "organizer" incorrrectly, this KNOMO company is from London.
KNOMO solves a problem that many mobile owners have, and the KNOMAD Mini Portable Organiser is good for those who have 8-inch tablets. The Mini Portable Organiser has a place for the 8-inch tablet, as well as a stylus (or pen), SD Card, a USB stick, earbuds, and charging cables. As you can see, it folds up very nicely.
Not only is the KNOMO Mini Portable Organiser good for travels, but it is also good if your stuff gets lost. It has a Myknomo ID number that allows the finder to easily contact the company with a unique code, and then the company will help the owner find their KNOMO.
This a very cool product, and you can get it here in Black, Olive, Sand, and Blue for about $59.95.