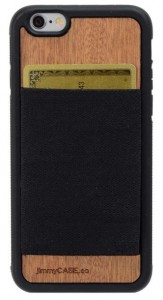 I've seen a lot of cases for smartphones that can double as wallets, and I will have to say that I find jimmyCASE ones to be very, very interesting.
In fact, I had a chance to try them out for myself. I will have to say that I admire the way these jimmyCASEs feel in the palm of my hands. Part of it is the silicone bumper around its real mahogany shell. Then there is the elastic band made to hold up to six credit cards. This piece of elastic gives a sense of comfort to the hand.
These jimmyCASE cases are available for about $39.00 each, and are made for the iPhone 4, iPhone 5, iPhone 5C, iPhone 6, and the Galaxy S4. There are all kinds of colors for the bands, and you should see them all on the jimmyCASE site.