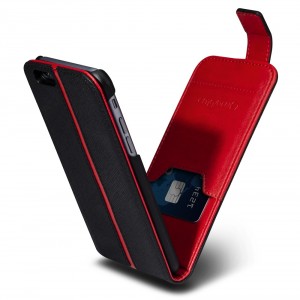 Well, this week just got interesting as I got a whole load of Marblue products. I think that I first saw them at CES, perhaps years ago, and I finally got a chance to try them out. Today, I'm going to start a bunch of accessories, and I'm going to begin with the smartphone cases.
Let's start with the Flip, or Racer Flip. Yeah, it's Flip on the website and Racer Flip on the packaging. As you can see, it is called the Flip because you can apparently flip it open and put a credit card in it. I suppose you could put a drivers license, business card or cash in it.
In case you are wondering, the cover is not made of leather. It does have this magnetic flap that closes it all shut and sealed, nice and tight. If you want to purchase it for yourself, feel free to go to the Marblue site and pay $39.99 for it.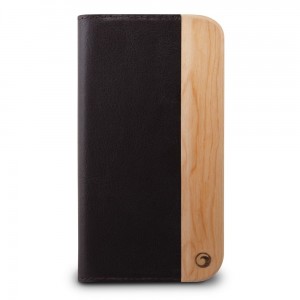 Then there is the Milan, and if I had to describe it in one word, this is the word that I would use: nice. Seriously, this is just a gourmet case.
Why is it so nice and gourmet? Two words: Genuine Leather and Cherry wood. Yeah, I know that's more than two words, but it's two things, okay? Speaking of two things, you can fit two credit cards in the Milan. There is a plastic cover for one of your cards which is also very, very classy. There is one thing that I couldn't really get to work right, and that was the stand. I think I would have to bend it awkwardly to stay working.
If you want the Milan, head over to the Marblue site and pay just $39.99 for it. I can't believe that is the price for something this classy!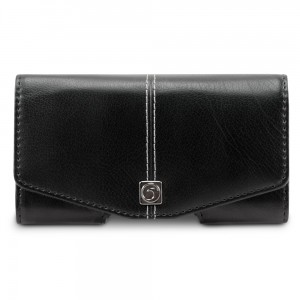 Then there is the last case, the C.E.O. Prestige. Oddly enough, I actually think that the Milan is classier than this product that has "prestige" in the name.
This isn't really a case designed for a particular smartphone, but a hip case that can be made for all kinds of phones. It can accommodate the iPhone 6, Samsung Galaxy S5, but not those bigger phablet phones. Oh, did I mention that is made of leather?
If you want it, you can find it on the Marblue site for $39.99.