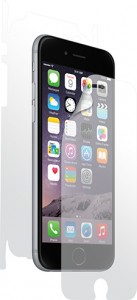 We have reported on Clear-coat products before, and they have that cool way of protecting your mobile devices with that transparent skin method. They offer full body and screen protectors for the iPhone 6 and iPhone 6 Plus.
For those who are not familiar with this protection, it uses thin-film protection technology to keep your device scratch-proof. Some people don't like these kinds of products, but they really aren't that difficult to install and they take up less real estate than a case.
This is why I'm going to recommend them. Not only do you get the protection, but there is some guarantees. For example, it has a 45 day money back guarantee, with a no hassle lifetime replacement guarantee.
If you are wanting to get this, head on over to the Clear-coat site. You can get one for your iPhone 6 here for $24.99 and the iPhone 6 Plus here for $29.99.