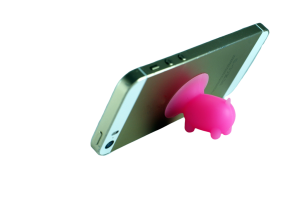 As many of you know, I review a lot of things for this blog. Today, I received in the mail something very unexpected with the Piggy Back Cellphone stand.
This product is simply a tiny pig's body with a suction cup. With it, you have something to hold up your smartphone at an angle so you can view videos and such.
Here is another use for the Piggy Back, you can put it on the back of your phone and hold it in between your two fingers. It holds very strong, and you can even wind your earbuds around it.
Now, this product is very cheap. You can get six for six dollars with a price of purple, green, blue, black, red, and pink. Check out the Piggy Bank website here.