Well, I have reviewed a lot of iHome products before, and yes, I'll probably review them again. Today, I am going to be reviewing the iDL46 for the holiday season, and I'll give you my recommendations. Oh forget it, I'll recommend them because they are iHome products, and they make some quality stuff, man.
Let's start out with iDL46, as it is a typical iPod dock. Okay, we've pretty much moved past the age of the iPod dock, but at one time, they really ruled the market. I suppose that this is an iPad and iPhone dock, but yeah, it can do iPods too as it has a flexible Lightning dock and 30-pin connector. Actually, it doesn't seem to have a docking port for a 30-pin connector, but it does have a USB port that you can use.
The iDL46 has an auto sync ability, which means the clock will sync with your iDevice in seconds. Other features include an FM radio as well as an alarm clock. Yeah, these products take me back to the 80s where everyone had a clock/radio. Of course, those wimpy clock radios from yesteryear had weak speakers, but this guy has Reson8 speaker chambers, meaning that the sound is very, very good with 3D stereo sound.
If this is something you might like, or give as a gift, you can get it on the iHome site for about $99.99.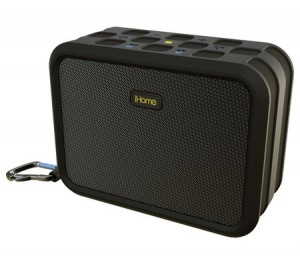 All right, let's get to the iBN6. It is a waterproof wireless speaker that is very similar to Lifejacket from Altec Lansing that I reviewed a while ago.
As I said in that review, I have seen these type of speakers before. They are loud, resilient, and usually set up for IPX7 waterproof rating. In other words, they are made for bringing sound to the beach. In fact, the clip that is literally attached to this product has a bottle opener shape to it. Seriously, who's ready to party
Of course, it is totally wireless speaker with NFC Technology and it has a rechargeable lithium ion battery good for up to 14 hours of playback before you need to recharge again.
You should be able to get the iHome iBN6 on the iHome site for about $99.99.