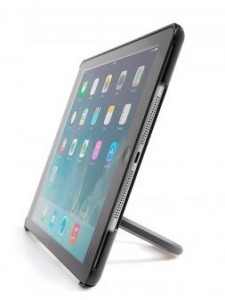 Last January, at CES 2014, I managed to get a good look at some Native Union products. I was pretty impressed with what I saw, and now, almost one year later, I got a chance to review the Gripster, the MONOCLE, and the Key Cable.
I'll start with the Gripster, a multi-functional grip, stand, and handle for the iPad Air. I will be honest that I have seen products in the past with these features, but the Gripster has all of them at once. The Gripster has a cover that is magnetic, and is similar to the one that Apple unveiled a few iPad models ago. These are those magnetic ones that stick on the cover and come in all cool colors, rolling back to make a stand. This one rolls up in a perfect roll.
Yeah, you don't need the roll up stand to prop up your iPad for video viewing, because this has a handle that can do that, in portrait and landscape mode. The handle can be used for carrying it around like a mini-briefcase. You can also slip your fingers through the Gripster and use the iPad with just one hand.
In short, the Gripster is an iPad accessory with a lot of accessories. You can get it on the Native Union website for about $39.99 in all kinds of colors for the iPad Air and iPad Air Mini.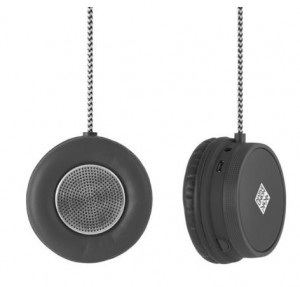 As for the MONOCLE, I am not certain why it is in all caps. It might have something to do with the fact that it is a stereo speaker with a 40 mm driver. Actually, it is a "speaker, handset, and speakerphone".
So not only will it enhance the sound on your smartphone, but you can use it to make calls. That is kind of a standard for most smartphone Bluetooth speakers. This one is wired only, but here's a nifty feature: you can daisy chain up to 10 of these together, resulting in some superior noise. That is not bad. By the way, you can control the volume by twisting it.
Well, this is one very interesting product, and you can see why I wanted to review it. You can get it on the Native Union site for about $39.99 in many colors.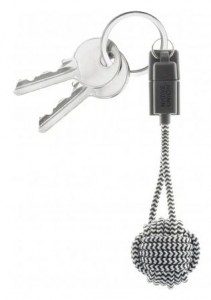 And last we have the Key Cable. Again, this is a device that I have seen before, a small charging cord that can fit on a keychain in case you really need juice.
As you can see, this Key Cable comes with a ball of paracord. If you aren't into paracord bracelet, don't worry, I think the fad is still going. I know my wife and daughter like to make paracord bracelets, and this formation is called a "monkey fist".
The one that you see here is made for iDevices, but it also comes with a micro USB version if that floats your boat. The one for iPod, iPhone, and iPad Lightning connect is available on the Native Union site for about $29.99.