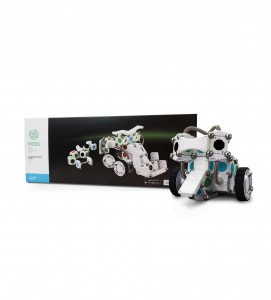 I have reviewed the MOSS Robot Construction System before, and I recently had a chance to review the EXOFABULATRONIXX 5200.
The MOSS construction systems are an educational building tool that is similar to stuff like LEGO MINDSTORMS, as the builder creates a lot of interesting creations. All of these creations are these cubes with metal spheres that connect together magnetically.
This has a lot of interesting parts to it, and I won't bother going into detail about what they are. I will tell you that without all of the instructions, I wouldn't be able to build this. Here's the deal, I have written a book on LEGO MINDSTORMS, and I was stumbling on this. I think there was some kind of color code to how these cube things are put together, but I couldn't make sense of it. So I don't know how kids will work with this.
Well, if you want your kids to work with this, head over to the ModRobotics site and lay down $479.95.