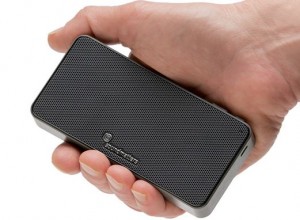 One thing that I love about being a gadget and tech reviewer is how good it is to review more than one product from one company. Oftentimes, I lose contact with a company, but when I reconnect, reviewing their product is like being reunited with an old friend. Such is the case with Soundmatters, as it has been years since I reviewed the FoxL DASH7 and the Dash-A, but I finally had a chance to review the Moment.
The Moment is a speaker that will fit in the palm of your hand, but you would be surprised at how much sound it can put out. It is billed as an ultra-portable audiophile speaker, the company says that it uses patented carbon-poly acoustic drivers and carbon-fiber infused body in order to provide near-field listening. I paired the Moment with my smartphone to listen to music, and I will testify to the ultra-precise, wide-frequency sound, as well as clear detailing and deep dynamics.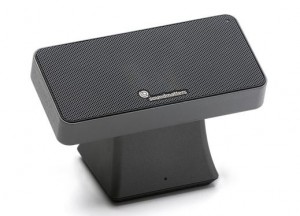 The battery life is good for up to 10 hours, with 90 minutes on a full charge. Now would be the time to talk about how it can charge. There is a place on the back of the moment that is one of those Energizer Wireless Charging technology stamps. In fact, the Moment comes with a stand that you can see here that allows connection to a USB/micro USB cord. All you do is just stick it on, and it is like the Moment is a bust, and the stand/charger is the neck. By the way, the charging cord can be used on the Moment speaker itself.
All in all, the Moment is one terrific Bluetooth speaker, and it can be purchased for about $169.00 ($249 MSRP) on the Soundmatters site.