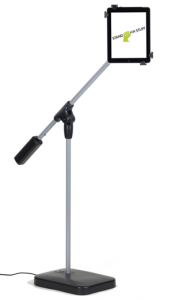 We really live in an age where we use tablet computers a lot, and we it seems like we aren't prepared for it. It is like living in a world with televisions, but we just never got around to inventing the home entertainment center.
The Universal SwingHolder Floor Stand by Stand For Stuff is made to keep your tablet in place while you just sit there. Seriously, don't most of us do that with our tablets or e-readers? Sure, we interact with them, but it is difficult to just keep it on your lap. The SwingHolder is designed to be adjustable, sort of like a microphone stand of some kind.
The holder for the tablet works with any tablet or e-reader measuring 7.5 to 14.5 inches on the diagonal, so you won't have to remove your tablet from its cover. The design on the holder has holders at right angles, so it is made to keep the tablet in with rubberized fingers. The holder can be adjusted for a lot of viewing angles.
In addition to using the Universal SwingHolder for viewing, you can charge your tablet as well. There is a USB port near the tablet holder that you can use with your USB charger, and then plug the included AC outlet in the wall.
I received it and it can assemble in a few minutes, and it can be folded up to only take up one foot of storage space. If you want it, you should head on over to the Stand For Stuff site and lay down for $199.00.