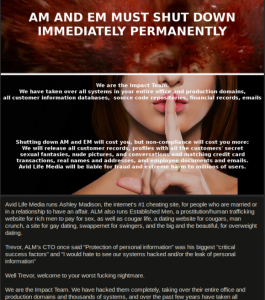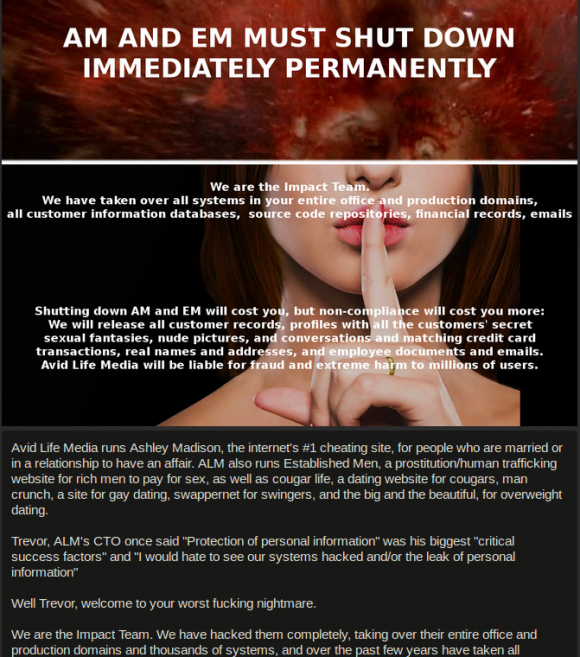 I've already written about this issue on the Gospel Herald, another site that I write for. If you aren't family with Ashley Madison, they are a dating website, with a difference: they are designed for those who are married or in a committed relationship. It's tagline is "Life is Short, Have an Affair". I can't think of worse advice.
You might have heard that Ashley Madison has been hacked. It was done by a group or a person called The Impact Team. The group put something on the website claiming that they have all this personal information from Avid Life Media, the parent of Ashley Madison. This group also claims that Avid Life Media owns Established Men, which supports human trafficking.
When I reported on this, I kept my opinion out of it. Even on an online website known as The Gospel Herald, I wanted to keep my opinions as a Christian out of it. I remained objective, but there is a paragraph that I wanted to say.
I am glad to say that I didn't know about Ashley Madison. I am a married man, and I said vows that I don't regret about 17 years ago that implied that I wouldn't be on sites like this looking to have an affair.
The issue that I have with Ashley Madison is that it exists, and it has millions (about 37 million) subscribers. Are there that many people who are trying to be unfaithful to their spouses? Yes, I am going to talk about how I believe that marriages should stay together.
There is something about Ashley Madison being hacked that actually pleases me. Yes, I just want them to have their comeuppance. I don't know if there is a lot of Ashley Madison clients' spouses that are getting information that their spouse is being unfaithful. If so, now they have to deal with the consequences of a cheating lifestyle which ends with you getting caught.
I find it odd that the Sources that talked about the Ashley Madison really downplayed The Impact Team's claim that Avid Life Media could be supporting prostitution and human trafficking. Is the real outrage that a site's privacy been violated? I'm outraged that Ashley Madison even exists.
I realize that as a society we can accept a lot compared to what we used to. We're getting close to legalizing drugs, and I'm glad we have made strides with equality of race and gender orientation. The issue is that I feel that marriage shouldn't be violated, and if that makes me old-fashioned, I guess that's what I am.