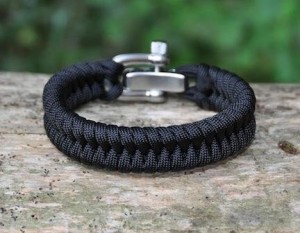 We have reported on Active Edge stuff before, such as the shirt that can make you healthier. Apparently, Active Edge makes these Survival Straps bracelets made of paracord.
If you haven't heard of paracord, then you must be missing out. Seriously, there is some kind of fad on paracord, so if you ever are in a mess, you can just pull some paracord off your bracelet and use it. This is what I am assuming what it is, otherwise paracord has become some kind of fashion accessory.
The Fish Tail Survival Bracelet is made to be "super stylish and expedition ready". Apparently, there is about 15 feet of 550 feet military spec paracord. Apparently, if you actually use it, then it will be replaced free in exchange of the story and the rights to publish it, and all you need to do is pay for shipping.
This bracelet can be purchased on the Survival Straps site for about $24.99.