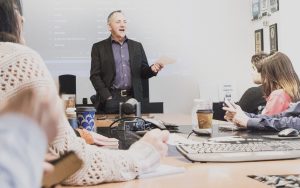 As most of you good readers know, I write about a lot of products on this website. It isn't often that I talk about where I get my sources, and it isn't often that those who help put consumer electronics products in the spotlight are put in the spotlight themselves. I am talking about Public Relations (PR) agencies that represent tech, and I want to talk about one of my favorite agencies to work with: the Max Borges Agency.
Over the last ten years, I have had the chance to work with the Max Borges Agency team. I found them to be terrific people to work with, providing me with the info that I need for articles about the latest in consumer electronics. Oftentimes, I will be attending a conference, speaking to a representative about a product, and I always love it when I find out that MBA represents them. Indeed, they represent so many tech companies that I won't bother to list them.
Max Borges is an agency that exclusively represents tech products. I've had the privilege of getting to know many of the people at Max Borges throughout the years, and I was fortunate to meet Max himself a few years ago. I was pleased that he was willing to answer my questions about what his group does, and how they do it.
1) Tell us how the Max Borges agency got started.
I wish I could tell you that I had this grand idea to start and build the number one consumer tech PR agency in the country but the truth is this; 15 years ago I had taken a year off and spent a good part of it traveling the world. When I got back it was time to get back to work. I was looking for a job and no one would hire me. I ended up getting an offer to do some part time marketing consulting work. That was my first client. After a few months, I realized if I found another client, I could make pretty good money and that's what I did. After that I rented a grungy little office, bought some used furniture and hired some part time help. From there I found some more clients and hired more help and just kept building it.
2) Did you always want to do a PR agency with a tech focus?
No. I had never even worked in PR! At first, I thought I would do events and some advertising work. Our first 4 years were our AFM stage – Anything for money! This worked out fine for a while but after we got to about 12 employees, it got a little crazy. We were doing so many different things that I was running in too many different directions. I realized we needed to focus on one thing that we could be the best at. I had discovered a few things in the first few years. One was that media relations were really a sales job and people with sales ability were much better at it than the typical communications person. Second, there were a lot of small and medium sized consumer tech companies that needed media relations and nothing else. They needed to get their product in front of a large audience but could not afford a national ad campaign. The other thing I learned was that if we made the media our first priority and focused on getting them what they needed to do their jobs, the reward would be more coverage for our clients. We have always focused on doing things to make the media's job easier for them. That has paid off big time.
3) Tell us how the agency has grown over the past 15 years.
Well, it started with me working on an old laptop (I still have it!) from a desk I pulled out of a dumpster, and now we have 40+ employees with offices in Miami and San Francisco. We have been on the INC5000 list of fastest growing companies 8 years in row. This is all the result of focusing on one thing and putting all of our resources toward being the best at PR for consumer technology clients.
4) You have more than one location now? How does that help your business?
Yes, we're in San Francisco now in addition to Miami. It really helps for a number of reasons. There is great talent in the bay area plus we have better access to clients.
5) Is it true that you were responsible for 1,000 tech launches? That is insane! What is involved in your typical tech launch?
I know! It's unbelievable. If you would have told me that back when I got that first consulting gig I would have thought you were crazy. Product launches are more complex than ever and it's critically important to get it right or you can jeopardize the ultimate success of any consumer tech product. There can be anywhere from 1-3 months or more of prep work that includes research, media tours, message development and media outreach. We handle consumer research, product/brand messaging, influencer and media relations, media events, media tours, and creative asset production among other things for each launch we do. We also conduct consumer focus groups and media beta test to confirm positive and negatives of a product along with unearthing unique use cases and story angles we will use to pitch media. Everything we do is part of our "Smarter approach to tech PR."
6) Tell us what you do for your typical client.
Ok, we focus our services in three key areas; PR, Content and Insights. Ultimately, it's about connecting people with technology. We analyze a client's business/industry, target audience, and customer journey. We then look at where our services can impact their customers' path to purchase and we design an action plan to make the biggest impact for their bottom line. Depending on the life stage that company is in, that could be heavy product launch driven, thought leadership, content strategy or research based. Once we decide what will make an impact, we work backwards from there to see where to focus our efforts.

• PR
o Media and Influencer Relations
o Product Launch and Review Programs
o Strategic Messaging and Positioning
o Corporate, Data and Thought Leadership Campaigns
o Media Tour & Events
• Content
o Channel and Content Strategy
o Video, Photo, Graphic Design, Copywriting
o Content Distribution (Paid, Earned, Owned).
• Insights
o Consumer Research
o Industry Analysis
o Performance Overview and Analysis
7) Tell us about an average day at Max Borges.
I have no idea what an average day is! We are launching products, conducting research studies, broadcasting tech TV segments from our in-house TV studio, onboarding new clients, onboarding new employees, conducting media tours in NYC and SF, shipping dozens of product samples to media, generating hundreds of pieces of media coverage and more. I also host a podcast called Unconventional Genius where I interview top tech CEO's as well as authors and other brilliant folks. It's a lot but its energizing. I love it!
8) Can you tell us about the people that you have working for you? How do you work as a team?
I have an amazing team – many of which have been working with me for 10+ years. Even my first employee still works here. He just celebrated his 15th anniversary – and he's only 32! Of course, there are lots of new people too because we are growing. Everyone here is passionate about tech. They are highly curious about how people discover and adopt new technology. We all love to see how our results drive sales for our clients. As far as working as a team, it goes back to media relations, content and insights. Each person has a role in creating a successful program. That said, I am sure I speak for everyone when I say we all still get excited each time we see our clients getting great media coverage – which happens thousands of times each month!
9) What kinds of tech can we expect to see at CES 2018?
Oh man – that's a great question! CES is such an important show for us. Almost every one of our clients will be there exhibiting. Virtually our entire team will be in Vegas connecting our clients with the media. Our broadcast team will be there to show the world what is hot and new. Smart home, mobile entertainment and virtual reality are all categories I expect to see some exciting announcements from in January.
10) What are your future plans?
My plan is to keep innovating our service offering to bring consumer tech companies the very best results possible. My focus has always been on being the best at what we do and we accomplish that through our innovative approach to PR. Our growth is a by-product of that. I'm very competitive so I will always be driven to be the best.
Well, you have heard it from Max himself on what he can do for tech, and it is pretty great. We are hoping that we can interview a lot of agencies that represent tech companies here on TheGeekChurch, so stay tuned.