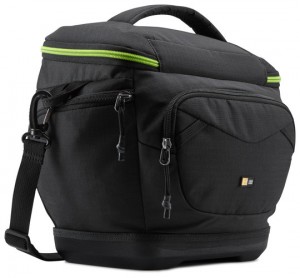 Well, I had another chance to try out some Case Logic products, and was pleased to receive the Kontrast DSLR Shoulder Bag. I have to admit, when it arrived, I thought I had received some kind of lunchbox or some kind of old-school binoculars case. I don't know how many of my readers got that reference, if you will even call it that.
The zipper on top is made to open up and you can insert your DSLR camera. Then there is a place for the camera as well as a lens with this thing that looks like it could hold a drink. You can even take out the lens holder, as Velcro is the only thing that keeps it in there.
Then there are some terrific pockets for whatever. There is one on each side, one in the front, and there is even a pocket on the lid itself.
Now, carrying this around could feel like you are carrying a heavy burden, but it fortunately comes with a strap. You can know that it will be safe, and the DuraBase gives a sense of security to all you photographers out there.
You can get the Kontrast DSLR Shoulder Bag on the Case Logic site for about $79.95.