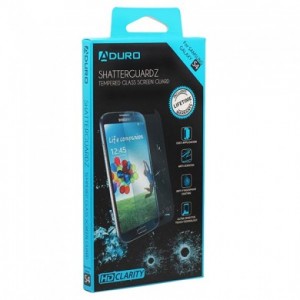 It has been a bit since I reviewed Aduro products, as I did the four products all at once. Today, I'm going to be two products, the Shatterguardz glass screen protector and the U-Snap SF 45 Universal Wireless Bluetooth Selfie Remote with Tripod.
Yes, I have reviewed a lot of screen protectors, and this specially processed glass that allows for protection against scratches, drops, and even fingerprints. It is very easy to install, and the Shatterguardz has Ultra Sensitive Touch Technology to freely navigate the device.
So, what are we looking at here? Well, it is a pretty inexpensive as it can be purchased on Amazon for $7.99, but I see it on the Aduro site for $49.99. Now, you should be able to get this for iPhones, and other versions of Galaxy devices.
Now, let's look at the U-SNAP Wireless, a wireless Bluetooth Camera Remote Clicker Plus 360 Rotating Tripod. This is designed for an age of the selfie.
The U-SNAP Wireless can fit all devices with 3.5 to 5.5 inch screens, and then there is a tripod to hold it steady. Then there is a Bluetooth connected shutter release so you can take your selfie without getting your arm in the shot.
By the way, the shutter release can fit on your keychain and it works from more than 30 feet away. The tripod and the shutter release button come in four colors including Black, Blue, Pink, and Purple.
This is another Aduro product that I'm getting a huge price decrease on Amazon with $11.99. The Aduro U-SNAP can be purchased on the Aduro site for about $39.99.