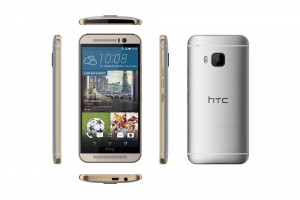 Well, I've had a chance to review the HTC One M9 Android smartphone, and what I will have to say is pretty positive. I'll go ahead and start with just how it feels in my hand. Even though the HTC One M9 is made of cold metal rather than warm plastic, I like its curve. I don't know if it is ergonomic, but I like it.
One of the big selling points of the HTC One series is that it has two stereo speakers on the front of it, located very obviously on the top and bottom. Now, most people listen to their music through their headphones or stream it to Bluetooth or NFC speakers, but if you just want one device to play it and you and others can hear it, this HTC One M9 is good for you at 5.1 surround.
Might as well take the time to talk about the camera now, it is a 20 Megapixel job, and it is good. Thanks to this camera, I didn't have to worry about using the flash, as it did it pretty much automatically. Then there are other things it can do like editing photos and videos. You can then use these photos to customize the phone for the wallpaper, icons, and a whole lot more.
I would say that on the whole, the HTC One M9 just feels comfortable, and part of it has to do with its version of Android. HTC puts their own spin on Android known as Sense, and I don't know if that affects the most recent release of Android, but there are reports that it could skip from Android 5.1 to 6.0, bypassing the 5.1.1 version entirely. It should be interesting what happens when they get to 6.0, and I can't wait until it arrives, which should be before the end of the year.
In short, I'm going to recommend it, and you can find out more information about it here.