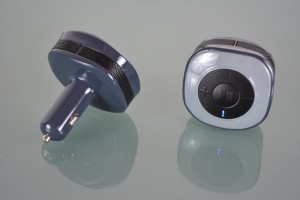 I recently had a chance to get to know a company called iCreation, and I would highly recommend checking out their products if you haven't already. They now have a Kickstarter project that is called the speeC-EZ.
In case you are stumbling on the pronunciation, it is pronounced "Speakeasy". You know, those places during Prohibition that sold illegal alcoholic beverages. In this case, the speeC-EZ is made to prevent car accidents, specifically those caused by distracted driving.
I think we all know that people being on their smartphones have caused some serious accidents, so the speeC-EZ is made to pair with the smartphone so you can control it with your voice. This means you can keep your phone in your glovebox with all the gloves, and you can send/receive texts, make/receive calls, send/receive emails, play tunes, and get some navigation.
As you can see, it mounts in the car's charging port, and this is what powers it. Then there is a noise cancellation microphone that will turn on as long as it is plugged in.
If you want this, you can pledge for it on the Kickstarter page and help them achieve their $50,000 goal. I have no idea when it will be available to the general public for purchase.