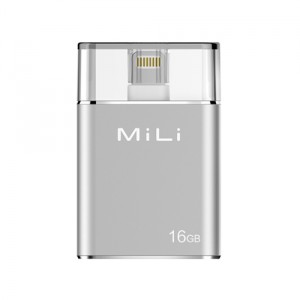 This is my second and last review of a MiLi product this week, and I have actually reviewed MiLi products before with the iData Flash Drive. I got a chance to review what I believe is the follow-up with the MiLi iData Pro.
The MiLi iData Pro that I got to try is a Smart Flash Drive wtih about 16 GB of storage. There are models that have more storage, but I will get to them later. The Smart Flash Drive is made for importing photos from a smartphone or tablet.
I honestly have to say that I forget how the first iData Flash Drive works. I seem to remember it coming with a Lightning connector and it is just a backup drive for your iPhone/iPad. The MiLi iData Pro can connect with just about any device, provided it doesn't have USB C charging, like my HTC 10.
So, you got yourself a backup drive for just about any device, and the 16 GB will cost you $69.90 on the MiLi Site. It is available in silver, gold, and rose gold, and it has storage for 32 GB ($99.90), 64 GB ($129.90), 128 GB ($189.90), and 256 GB ($269.90).