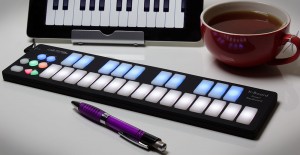 It has been a while since I have reviewed anything from Keith McMillen Instruments. I had a lot of fun with the QuNeo and I was almost ready to quit writing and become a DJ. I got a chance to review the K-Board, it is was very similar to the QuNexus that I reviewed before.
The K-Board is like its name implies, a keyboard, but shorter. If you have a music-playing program, you can use the K-Board to play some tunes. All that is required is to plug it into the tablet or computer, and you can play. You will need some kind of music program, and I used SimpleTank 3, a program from IK Multimedia, which I will discuss at a later time.
The keys are such so hitting them hard will be a loud sound, and there are special buttons so the keys will be sustained and other tricks. If you are concerned that two octaves on the K-Board not giving you enough notes, you should know that there are octave buttons to reach high and low notes.
I'm not certain if the K-Board is just a QuNexus Jr., but it is designed for spills and can even be run over by a car. All in all, the K-Board is a cool product and it is available at Guitar Center, or you can buy it here for about $69.99.