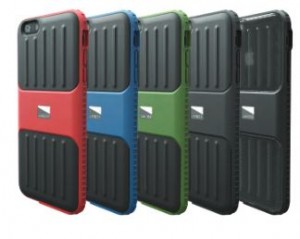 I have reported about Lander products before, very recently, in fact. I got a chance to review the Neve Charging Cable and the Powell Case.
I'll start with the Powell Case. It is pretty good with a Slim Fit, with raised bezel, textured edges, and some stylish ridges. As you can see, the case on the iPhone looks like the bottom of a raft. Too bad that it doesn't float.
All in all, it is very excellent and non-bulky outdoor inspired phone case, in many colors, for about $34.95. It is also available for the iPhone 6/6S Plus and Galaxy S6 on the Lander site.
Then there is the Neve cable, and I had a chance to this Lighting charging cable for the Apple products like the iPhone, iPad, and iPod.
The Neve Lightning cable or just about any type of these cables has Illumaweave reflective technology for some quick location in the dark. By the way, it is made of durable nylon, flat, tangle-free design, and it is MFI Certified. It also has some enhancements with Everpull connectors to avoid breakage and rips of place on other cables.
There is a lot of Neve cables at the Lander site for about $29.99, and it not only has Lightning ability, but it is available in micro USB to USB availability as well.