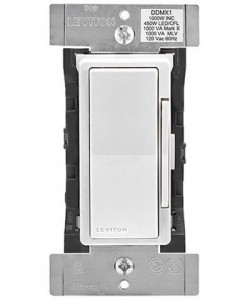 I suppose that this is a good time to end our discussion of the Leviton Decora Digital. I have to admit that this illustration looks like the product I reviewed last time.
The Decora Digital Controls has Bluetooth technology so you can use your Decora Digital Timer app to control, adjust, as well as time lighting for daily activities. Yeah, this does sound like the product that I reviewed.
So, the Decora Digital Dimmer and 24 hour timer with Bluetooth Technology, and it has Universal 450W 120VAC Dimmable LED and CFL, 1000W-120VAC Incandescent, and 1000 VA mark 10, along with 60 Hz Single Pole and 3-Way/Multi-location control.
Other features include an LED locator light which can be turned off via app, an automatic daylight saving time adjustment, as well as an astronomical clock that can automatically adjust to local sunrise/sunset times.
Anyway, you should be able to purchase this on the Leviton site for about $58.00.