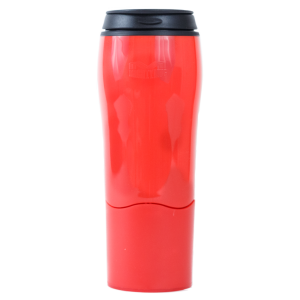 So this was a fun product to receive to review. Taking a break from the headphones and cases, and now we get a product that will save the computer/gadget world from the inevitable drink spill. A lot of us like to drink coffee or some other beverage while surfing the web. Do you ever get nervous that you might bump your drink and knock it onto your keyboard or other nearby device? The Mighty Mug ® is the solution for you!
These amazing mugs come in a variety of styles, colors, and sizes, but they all have the same concept- a Smartgrip ® Technology that will hold your mug/cup in place when you bump it, knock it, or smack it(the instructions say not to punch it).
The amazement doesn't stop there, though! You would think that suctioning your mug down to a table might be disastrous if you try to pick it up, but it easily lifts up when picked up above the wavy line.  That is on their travel mugs, which we were sent to review. The mugs are BPA free, fit in your car cupholders, and are dishwasher safe in the top rack.
Note: These do not work on carpeted, heavily textured or rounded surfaces. If you have a smooth desk top or table top, this is what you will need for your Mighty Mug to stay upright.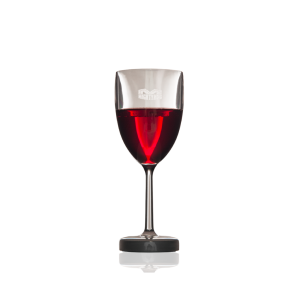 They have other kinds of Mighty Mug products. What we got to review was the travel mug in 12 and 16 oz. sizes. The 12 oz size says it fits most single serve coffee machines. My coffee machine is unfortunately too small for it, but at about 6 inches tall without the lid on, it may fit yours. Back to the other kinds of products, there are some stainless steel mugs, some clear ones for cold drinks with a straw, and there are even bar glasses! You can drink wine or beer without knocking them over, too!
Prices vary by item, but for the 16 oz Mighty Mug Go, you can expect to pay $19.99. You can buy this and others on the Mighty Mug website with a 100% Happiness Guarantee.