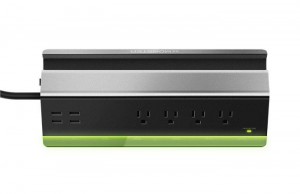 Monster might be known for their cables, but they put out quite a bit of great products for audio, as well as some power strips. This Monster Power and Charging Station is one of the more high quality ones that you can buy.
This Monster Power and Charging Station is part of the company's new Living Spaces collection, which means it is made for the "demands of today's charging lifestyle". So what does a charging family need? How about 4 power outlets and 4 USB ports (4.8 A).
The Power Outlets have Monster Fireproof MOV technology, as well as power filtration shields that protect from EMI/RFI. Anyone know what that is? Oh, it has a 6 foot power cord.
You can't really see this in the picture, but from the side, the shape is like that of a house. You can use the "roof" as a stand for a phone or tablet, so that is handy if you keep this power strip on your desk, like many do. Another interesting feature is the back light, made for an accent or night light.
The Monster Power and Charging Station is quite an office-themed gift. It can be purchased on the Monster site for $79.95 (MSRP of $89.95).