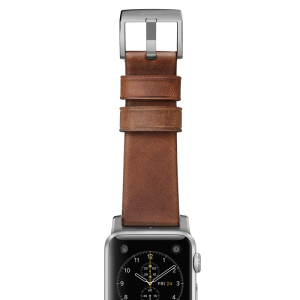 Well, we just had a chance to review the Nomad Leather Wallet for the iPhone, and I suppose that it is only justified that we review the Leather Strap for the Apple Watch. Yeah, because its Leather and made for Apple, right?
Okay, I don't really think they are that much related. However, I haven't had too much chance to review a lot of Apple Watch products, but it looks like Nomad has a way to make the Apple Watch a little more fine watch than it is technology. I mean, this is the strap that you wear when you are in your Sunday best.
You know how the Apple Watch comes in Black or Silver? Well, Nomad has created a strap with a silver buckle or a black buckle. By the way, there is a modern build with no stitches, and a traditional build with stitches.
Like the aforementioned Leather Wallet, it is made with Horween leather. They also have 316 stainless steel, and I am not sure what that is. Either way, they are really great craftsmanship.
Anyway, you can get this strap on the Nomad site for $59.95 for the modern build and $149.95 for the traditional build.