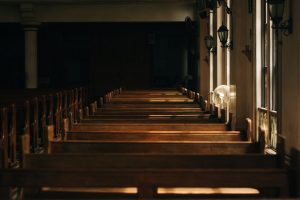 We talked about the #MeToo movement that was initiated by Alyssa Milano after the Harvey Weinstein scandals came out. There's another important related topic to this that Christians need to be aware of. A new awareness campaign is coming to the light with #ChurchToo.
Yes, sexual abuse happens in churches as well. Not just the Catholics, but LDS, Protestants, et al.
People are taking to Twitter and other social media to bring this to light.
I was 11. I went to the restroom. I was followed by the youth pastor. He grabbed my arm. I was lucky enough to fight him off and escape. I just wonder how many girls weren't so lucky. #ChurchToo https://t.co/bp450l3Uw4

— Carrie (@carrie_helen13) November 22, 2017
I find in general that people get a false sense of security when it comes to leadership, and most other people in religious settings. Many trust that because one is a youth pastor, or a leader of a church, that no harm can be done. I've heard too many terrible stories to think otherwise.
In the church we previously attended, they did make sure to do background checks for those working in the nurseries. Men were only allowed to change the diapers of their own children. I am still trying to decide if that is sexist, but I can see it as the church trying to cover themselves, which is probably smart on their part. Personally, I thought parents should be called to do their own diaper changes, but that was because nursery workers could get stretched thin at times. Of course, nursery age isn't the only ones needing to be protected, so I encourage parishioners to find out what is being done to protect kids of all ages in their church.
Another thing that churches need to stop doing, and I mentioned this in the #MeToo post, is we need to stop blaming the victims. This really needs to stop. Women and girls shouldn't be told that they need to wear a cover up from head to toe to make sure that they don't cause boys/men to stumble. Our boys should learn how to properly treat females no matter what they wear.
Also, l was 16. The rapes happened from 11-14. She reported it to no one. She also never spoke about it to me again.

— Shannon Dingle (@ShannonDingle) November 21, 2017
Let's not forget to call out the people who didn't believe us when we told them our stories, the pastors, parents, teachers, who left us hurting & alone. You are responsible too. #churchtoo

— Casey Cruver (@ccruver93) November 21, 2017
The church/purity culture is the reason why I didn't know a guy at my Christian college had harassed and assaulted me until years after it happened. None of my college friends know because I'm afraid of retaliation and judgement. #churchtoo

— Ms. Charlotte (@charlotteirene8) November 21, 2017
The list goes on, and I encourage you to check out all the #ChurchToo stories.
Leave your thoughts and stories on this in the comments below!