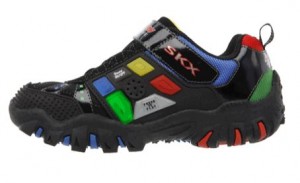 Skechers kids' shoes are known to be very cool- especially the ones that light up.  At CES 2015, Skechers presented their new shoes called Game Kicks.  Many parents of kids probably remember playing the game of Simon.  Did any of us think that someday our kids could be playing the game on their shoes?  Well, now they can!
Skechers sent us a pair of the boys' Damager-Game Kicks in a size for our youngest son (cue jealousy in the older two kids). The shoes are very sturdy, have great treads on the soles, and are very stylish and cool. My son likes the fact that if he is bored, he can pick his foot up, rest it on his knee and have instant entertainment wherever he goes!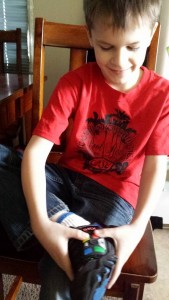 Skechers also sells these shoes in two different colors for girls- one black/multi-colored, and the other silver/multi-colored. The girls' style has flowers buttons to push, instead of the blocks that the boys' style has. The sole of the shoe doesn't have the cool tread that the boys' style has, either. Skechers might consider that girls- even the little ones- are not always flowery and might like a more rugged sole, too!
These shoes recently released January 25th, are available on Skechers' website for $65. They come in kids' sizes 10.5 to 4. Maybe they'll come in my size someday so I don't have to steal my son's shoes when they are off his feet.
The battery life is said to be about 80 hours of continuous play or 6 months- which is the life of the shoe. The sad part about this is that if these shoes are passed down to some other kid, they might not get to enjoy the interactive feature on the shoe. Good news for parents- the sound can be turned off if you can't take any more noise in the car!