Re-fuel by Digipower is a company which manufactures items like portable chargers, a lot of GoPro stuff like rechargeable batteries, protectors, and mics. They also make bluetooth speakers, and tripods/monopods, et. al. For this review, we have four different items that we'll cover- the Powerbiner, the 24 hr Action Pack rechargeable battery for GoPro HERO4, 3+ and 3, another Action Pack rechargeable battery for the GoPro HERO6 and HERO5, and a rechargeable 13,000 mAh PowerBank called Juggernaut.
First off, we'll review the Powerbiner.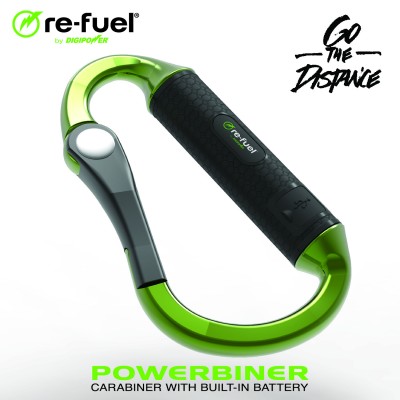 This cool gadget can clip to your backpack when you are hiking, and with 3,000 mAh, it can recharge a phone a couple of times. While this Powerbiner looks like a heavy duty, giant carabiner, it is not meant for rock climbing, rappelling, or any other extreme outdoor activities. It says so on the box (well, on the back in small print).
It doesn't have much juice included in it when you hook it up- not really ready to go out of the package, but you could juice it up with your own USB to USB-C cable (not included).
A sealed compartment in the rubberized grip contains the USB ports. It doesn't say if it's waterproof, but at CES, they do keep these items in a display next to water. I would say maybe water resistant. I wouldn't risk testing the waterproof capabilities. Usually the packages have an IP rating, but this one doesn't.
It has short circuit and overcharge protection, which is pretty cool. It can hold up to 132 lbs, so you could use it to hang your backpack from a tree to keep it from bears, or something. Give us your uses for a carabiner in the comments below. If you like it, it retails for $29.99.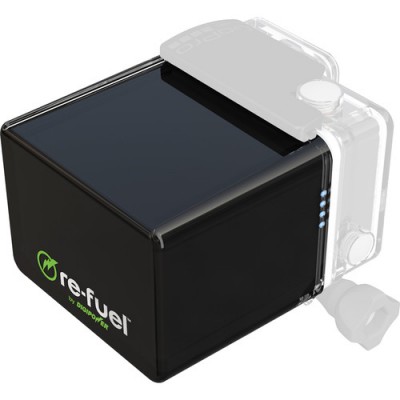 Next up, the 24 hr Action Pack rechargeable batter for GoPro Hero4, 3+ and 3. In one charge, you can have up to 24 hours of recording (with a fully charged internal battery on your GoPro). They also have 6 and 12 hr ones which aren't as big and expensive if you don't need the extra battery life.
It's waterproof up to 131 ft, and dirt and dust proof so you can do those high adventure filmings- including in extreme cold and heat from -22F to 122F.
The little LED indicator lights on the side tell you how much battery life you have left with a simple tap or shake. A micro USB cable and USB wall charger is included.
This item runs for $129.99 on the Re-fuel site.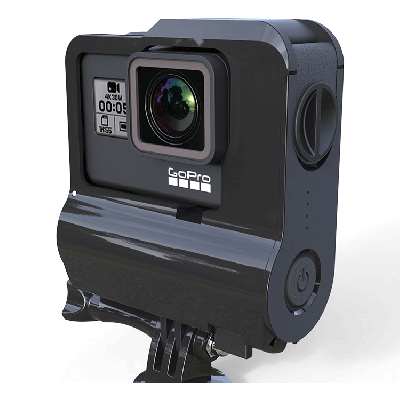 If you have a GoPro HERO6 or HERO5, you can extend your filming time as well with this Action Pack rechargeable battery. This one will allow you to film at 4K for 6 hours straight, at 1080P for 8 hours, and 720P for 9hours.
This one is also waterproof- only up to 33ft, but is also protected from dirt, dust and extreme weather (this one from 0 degrees to 110 Farhenheit) like the aforementioned product.
It has pass through power, so you can use it while it's charging (though, not underwater). It is $59.99, if you're willing to spend on this one.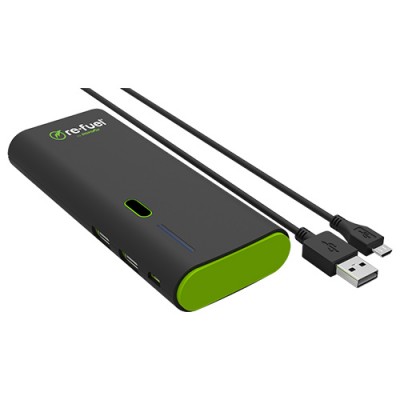 Finally, we have the 13k mAh rechargeable power bank. They call this the Juggernaut. It's one of the more powerful ones they sell- with the ability to charge devices up to 5 times per charge. It has double USB ports, so you can charge a couple of items at a time on it.
Easy to read LED indicators will let you know about how much juice you have left. It comes with a 1ft long USB to micro USB charging cord. This lightweight portable charger is a great deal at about $59.99 for those on the go.