It has been a while since we reviewed a good Armpocket product and yes, we have reviewed the Mega i-40 Plus and the i-35 armband before. I am assuming that these are this year's models, or something.
I suppose that if you have never heard of an armband, then you would be surprised to find there is a way to put your mobile device on your arm in order to access the touchscreen through a window. Oh, and there is a way to listen to your music thanks to earbud access.
Armpocket Flash i-40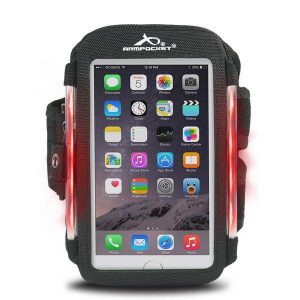 The Flash i-40 is made for devices up to 6.5 inches/16.5 cm, with an arm strap that fits up to 15 inches (38 cm). that's good enough for the iPhone X/8/7/6 Plus, Galaxy S8+, Note 5, Google Pixel XL, or Pixel 2 XL. You can also carry your ID, credit cards, money, or even your keys in this thing, all thanks to some multiple interior storage compartments.
In the case of the Flash i-40, it is made of an ultra-soft bamboo/rayon mesh that is some great eco-friendly fabric made from recycled plastic. You can put your device inside, and it will be safe from both weather and sweat.
This would probably be a good time to talk about the multi-mode LED lights that can change functions with an easy squeeze button. By the way, the battery is included.
So, if you are looking to do some running in the day or the night, I would suggest wearing this Flash Mega i-40 on the Armpocket site for $49.95.
Armpocket Ultra i-35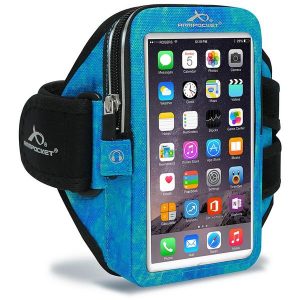 Now, the Ultra i-35 can fit devices up to 6 inches (15.2 centimeters), which is good for the iPhone X/8/7/6, not to mention the Samsung S8/S7, or Google Pixel 2/Pixel. It also has the room for ID, keys, and cash.
It does not have the flash, and by that, I mean those flashing lights. It is made of that same ultra-soft bamboo/rayon mesh with some dual zippers for some protection against weather and sweat.
Not only is it a quality armband equal in quality to the i-40, but this one is available in a lot of great colors like Arctic Blue (a blue camo design), Arctic Berry (red camo), Arctic Storm (black camo), as well as purple and black. It is available for purchase on the Armpocket site for $39.95.