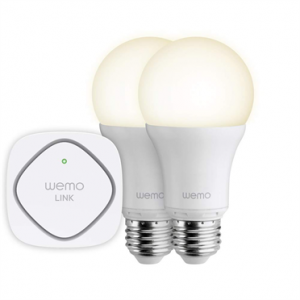 While I was at CES 2015, I kept hearing a lot on "the connected home", and this is related to the whole concept of The Internet of Things, where you can just control pretty much anything through your phone.
Belkin, a company whose products that I have reviewed before, has created the WeMo, a system that takes the connected home to a new level. The WeMo LED Lighting Starter Kit is a good place to start, as it is pretty simple to use.
What you need to do is just screw in the light bulbs, which only consume about 10 watts of energy and very little heat. You can then plug the WeMo Link into any outlet, and connect its network to your phone. From there, it is very easy to turn the lights on and off with the touch of a button.
Now I had a chance to try them, and I was able to master the on and off well, but the WeMo series allows for a lot more control of that. For example, you can create dimming and all kinds of schedules for all kinds of devices. This type of control can be done over a business.
In short, it is going to be pretty obvious that everyone will have a connected home, and you are going to see products like WeMo in the future. I wouldn't be surprised if every new home has some kind of connectivity feature built right in. If you want to get ahead of this obvious trend, head over to the Belkin WeMo site and lay down $99.99 for it.