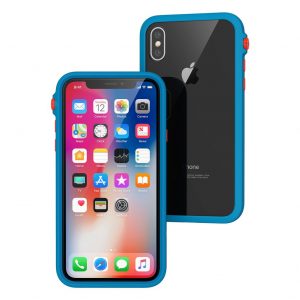 It's been about a week since the new iPhone X has come out, and Apple's newest, most expensive, and smartphone with no home button certainly needs a case. As usual, Catalyst has a solution with the Impact Protection Case for the iPhone X.
Now, I am going to have to say that this is one of Catalyst's first cases that is not waterproof. It certainly is a change for the company, and I don't know if it is a welcome one. I'm going to have to let the fans decide. Yes, Catalyst has its share of fans, right?
This has a grippy rubber bumper that has a clear back as well. It also has a lanyard attachment and rotating mute switch. but enough about that, what about the drop protection? It is good for about 9.9 foot drops.
In addition to this, the Impact Resistant Case includes a wrist lanyard, and I am not certain if that is a new feature or not.
Well, whatever the case, you got to like Catalyst's new Impact Resistant case for the iPhone X, ad it comes in Black, Blueridge/Sunset (Blue/Orange), Army Green, as well as Coral for $39.99 on the Catalyst site.