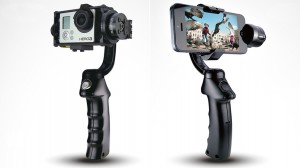 I think that we all know that a lot of home videos with Go Pro cameras or smartphone cams are shaky, at best. Some people don't mind that shaky-cam feeling, while others can't stand it.
This device from Mastor Technology is the Cheetah-CH1 an Greyhound-GR1 are handheld stabilizers designed to automatically pitch, tilt, pan, and roll to "counteract and cancel out any unwanted motion". I don't know if you can see it on the photo, but there is a small controller around the thumb for moving the cameras manually.
Now, I don't have a price or availability date for this, but I am surprised that I haven't heard about something like this before. I wouldn't be surprised if I see something else like it.