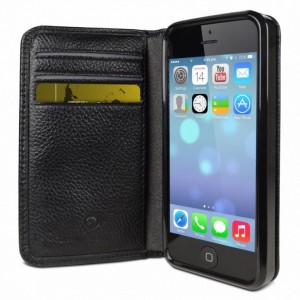 Well, we are back with some more Cygnett products, and this time, I have three for smartphones. One for the Galaxy S4, and two for iPhone 5/5S.
I'll go ahead and start with the Alec, presumably named after Alec Baldwin, as it would be perfect for his 30 Rock character. After all, it is made of genuine leather, and considering all of the vinyl products I have seen that look like leather but aren't, it is refreshing to see the real thing on the Alec.
The Alec has two big features going for it. First, it has that flip design for holding credit cards and cash, which I have seen so often that I am beginning to think it is a standard feature for most cases. Also included is a very hard snap-on chassis, as well as a screen protector.
So not only is the Alec classy, but it also offers some good protection as well. You can get it on the Cygnett site for about $49.99.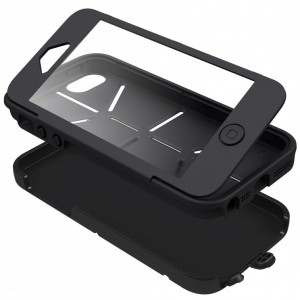 Okay, so let's talk about the Workmate Utility. While the Alec is big on class with its Genuine Leather, the Workmate Utility is very big on protection. It reminds me of the Otterbox or Lifeproof cases, but it doesn't seem to be made to survive underwater. This is not to say that it can take the hits or bad conditions that those brand cases are able to do.
However, it has dust and weather sealed ports, and the covered buttons make it a case for not-so-ideal situations. Considering it was designed with "off-road conditions and urban design in mind", its 360 protective systems is made with quad-material for resisting shock and other damage. If you are interested in it, you can get it on the Cygnett site for about $39.99.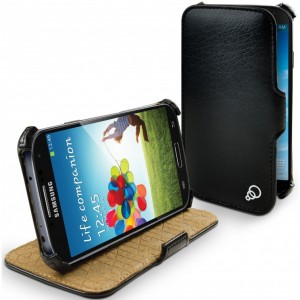 This leads to the final product for the Galaxy S4 with the Lavish Executive. Now, I am told that this has a "leather-feel" material, so I am guessing it doesn't have the genuine leather of the Alec.
The Lavish Executive does look pretty classy, and it is lined with microfibres. I am not certain what that is, but I believe it provides more protection. Another bonus is that the user is able to mount this thing in landscape mode, which is good for watching videos and such.
So, if you are looking for some class on the GS4, head over and to the Cygnett site and pay for about $39.99. Okay, that is about three cool products from Cygnett, and wait until we get to Part 3!