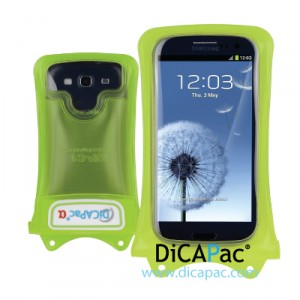 I have reviewed waterproof cases for smartphones, like the Armor case for the Galaxy S III and the iPhone 5. Most of these cases are specialty cases made for a specific phone, but I like DiCAPac's approach.
I had a chance to try out the WP-C1, and it is great because it is made for all kinds of phones. It works with a Ziploc top, and then two velcro locks. It was suggested that I try it out first with paper and cloth, and it worked.
Also handy is the transparent front made for using a touchscreen, and you can even use the phone for various apps like music, video, and all kinds of stuff. It is good for 33 feet (10 meters) of submersion, and it also protects against other natural enemies like fog, dust, snow, and sand.
You should be able to purchase this model, the WP-C1, on the DiCAPac site for $24.95 in white, black, yellow, blue, pink, and green.