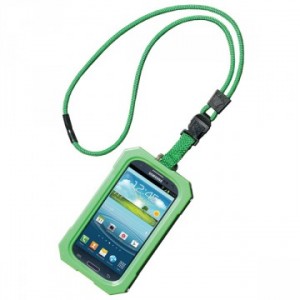 I suppose that I could have called this EK USA, part 2, as it deals with another Neck it (not "naked") accessory for smartphones. This is the Dri Cat, a waterproof case.
I had a chance to try out the Galaxy S III model, and I did a test with some paper, like I did with the DiCAPac. It passed the test, and it protects the phone as well. You can dip your phone into the water, and access the touchscreen as well.
The only drawback is that you cannot access any of the side buttons. You also have no access to the ports. There is another thing I want to caution, it is that this fits both the Galaxy S III and Galaxy S IV. I have never seen an accessory that can accommodate both of these smartphone models. Is this the first?
If your phone is in need of this type of protection, head on over to the EK USA site and lay down $59.99 for it. You can also get it for other phones besides the Galaxy S III.