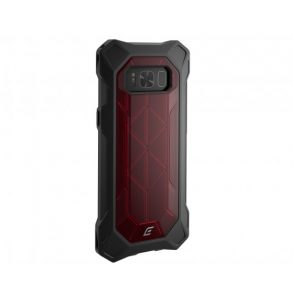 This phone case I'm reviewing has a design that looks stylish and rugged and made for speed. It is really designed for speed. It was car tossed at 65 MPH. So not only does it look like a sports car, and can survive being thrown out the window of a fast moving one. This one is a different Element case, but I can guess that the results would be similar to that of this video:
The Rev comes in three colors- a translucent red, blue and black. The corners may look big and bulky, but they are designed to protect your phone from extreme bumps and drops.
The frame of the case is called the X-FRAME™ chassis, and it is engineered to keep it lightweight while resisting twisting and bending. These cases have also been dropped 65 times at 10 feet to prove that they are extremely durable and will protect your phone.
The case we were sent to review is for the Galaxy S8, but they sell them for the Galaxy S8+, as well as other phones- including the iPhone. Most of the cases this company makes, in fact, are not designed for the S8 or S8 plus, so if you want to go with a Element Case for these types of phones, the Rev will be your best bet.
The Rev costs $39.95 on the Element Case website, but you can also find it at Amazon and stores such as WalMart.